Phil's Vintage 8mm, Super-8 and 16mm Films and Projectors
---
STANDARD 8MM SILENT & SOUND MOVIE PROJECTORS

Bell & Howell, Bolex, Sears, Kodak 8mm silent projectors & Eumig 8mm Sound Projectors.
The listings in this page are always current. Projectors sold are immediately removed from the lists, so it is always up-to-date.

Updated December 21, 2017
Scroll down this page to see the 8mm movie projector models available.
8mm silent and sound movie projectors on this page are for standard / regular 8mm film only(unless noted).


You cannot run super-8 movies on an 8 mm projector.


See the difference in 8mm film and super-8 film HERE.
If you need a Super-8 Projector, click HERE .
I have been working with and restoring movie projectors for more than 50 years. All projectors are Fully Refurbished;

thoroughly inspected, adjusted, lubricated, parts replaced and repaired as necessary to restore to factory new running condition

. Condition mentioned in the description is cosmetic condition. All are guaranteed clean and in perfect new running condition with a good bulb and one take-up reel. All are 400' reel capacity unless noted. Excellent for showing your films or to transfer them to video (using your video camera to capture the projected image *). Every projector will come with an 8mm sample film, one 400' take-up reel, good bulb and instruction book. A number in ( ) brackets indicates if I have more than one of that projector.
* Most of the projectors here are excellent to use for transferring film to video, but none have the capability of transferring the image to video through a line output. You must use a video camera to take a picture of the projected image if you plan to use the projector for video transfer. I do not take in repair jobs.I just service the projectors I refurbish and sell myself.
PLEASE VIEW WARRANTY AND RETURN POLICY
IMPORTANT NOTE - RETURN POLICY:
All projectors are guaranteed to be as described and running perfectly for a full 60 days after delivery date, or I will repair it or replace it for another comparable model. If I can't repair it and don't have a satisfactory replacement, I will give a refund.
Please be sure about the type projector you need and what you order.
If, after you first receive a projector, you want to return it for a refund because you bought the wrong format, thought it did something I indicated in the description or on the page heading that it does not do, or you just decided you don't want it after all, I will issue the refund less the initial shipping, Paypal fees if that applies, plus a re-stocking fee of 25% of the selling price of the projector.
---
STANDARD 8MM SILENT MOVIE PROJECTORS
SEARS 9270 8MM PROJECTOR

Excellent model made by Bell & Howell for Sears in 1966. Has automatic threading, 400' capacity, reverse and single frame projection. A bright picture with the f1.6 lens. Runs standard 16 frames per second with a slow motion lever for about 5 frames per second. Uses DFN, DFC, DCH, DJA or DFP bulb. Runs like a dream and in Mint condition with instruction book. This is brand new old store stock in the original box and packing - $349 (No Discount)
---
BELL & HOWELL 363 ZOOM 8MM PROJECTOR

With automatic threading, 400' reel capacity, reverse and single frame projection, retractable power cord, room light outlet, variable speed control makes it perfect for video transfer. With the f1.6 zoom lens and low-volt DCA, DLS or DCF 150 watt bulb. Runs like a dream and in Like New condition with instruction book - $449 (No Discount)
---
STANDARD 8MM SOUND MOVIE PROJECTORS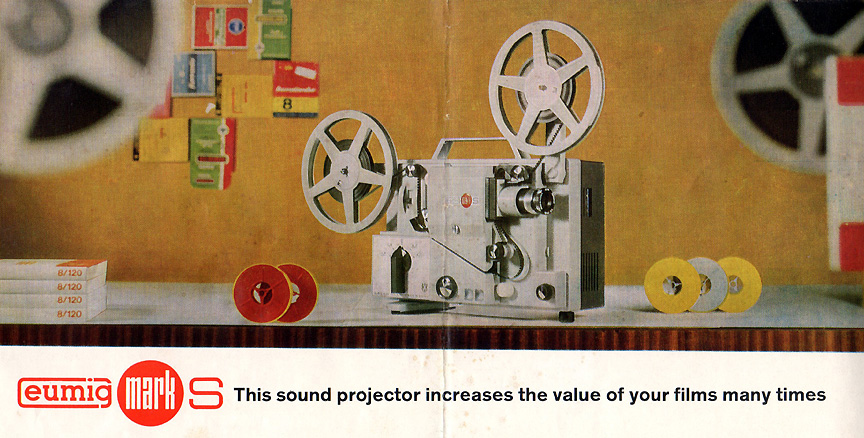 EUMIG MARK-S 8MM




MAGNETIC SOUND PROJECTOR

From 1968, this is the best performing regular 8mm sound projector made. In many ways I consider this model superior to the later Eumig super and dual-8 models. Beautiful condition and meticulously refurbished (totally rebuilt) to run and last like new, including new motor mount bushing supports; and with brand new rubber surfacing on the two drive discs if it was needed. Excellent loud sound from the 3 tube amplifier. Has automatic threading through the film gate; manual threading through the sound head to the take-up reel. Shows sound or silent film much better and safer than the dual-8 models. Has pilot lights that come on when the projection bulb is off for easy threading in the dark. Runs in forward and reverse. Has a variable speed control for speeds from 15 to 25 frames per second. This makes it excellent for electronic image transfer to the computer or DVD, without flicker at 20 fps, through a video camera. The brightest picture avaliable in any 8mm projector using the inexpensive FCR 12 volt 100 watt bulb and f1.3 zoom lens. Almost all steel and metal construction. Operates at 110 to 250 volts, 50 or 60 hertz. Comes with 400' take-up reel, protective hard plastic cover, instruction book, microphone, 2 spare bulbs and commercial sound film. Excellent+ cosmetic condition and runs Like New - $1399 (No Discount)
---
EUMIG MARK-S 802D
DUAL-8MM SOUND PROJECTOR
WILL RUN BOTH 8MM AND SUPER-8 SOUND OR SILENT FILMS

An excellent Dual-8mm magnetic sound projector with outstanding projection and sound quality. Very simple to change from 8mm to super-8 by changing out the sprockets, spindle adapter and film gates, and switching sound head setting. Variable running speed from 15 to 25 frames per second, so you can adjust to 20 fps for video transfer of your home movies. F1.3 zoom lens, 12 volt 100 watt EFP lamp, great sound quality, runs reverse as well as forward and has auto threading onto the take-up reel. Very safe on your film. Has 600' reel capacity and comes with a 400' and 600' reel. With instruction book, all accessories and sample 8mm and super-8 sound films. Like New in a beautiful leather-like carrying case - $1299
Many More Listed Soon!

---
** All Projectors On This Page Are For Standard/Regular 8mm Film Only Unless Noted **
For spare projector bulbs, check myBULBS page. If I don't have what you need, there are links there to other bulb and lamp sites.
Up To PROJECTORS & EQUIPMENT
---
Any item or film that is in RED TEXT means that it is on hold, but I haven't yet received the order.
This means when I receive the order I will remove the item, or if I do not get the order I will leave it listed and change the red text to black.
Go to ORDERING INFORMATION if you are ready to place an order or want to call me or send an Email.
This Site Is Designed And Copyright 1999 - 2018 By Phil Johnson
Do not use images or contents on any other web site or in print.