SPECIAL INTEREST & CELEBRITY PHOTOS
Updated October 6, 2022
Lots of interesting photos for old movie buffs are here, including many photos of celebrities from the golden age of the movies I've taken in the last 50 years. As I add more pictures, I'll start using thumbnails to access them. All photos are taken by me and they are not to be used in any manner or on any other web site without permission. All pictures are copyright 1999-2018 by Phil Johnson.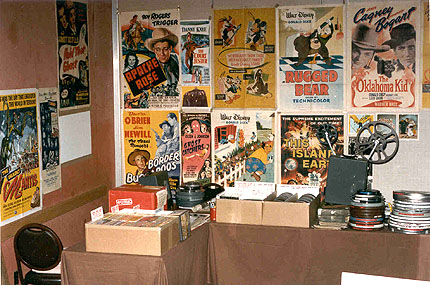 This is my dealers table at a collectors convention in Memphis, Tennessee in 1984.
Here I am with Sheb Wooley and Gene Evans at that same 1984 convention.
Go to the pages below for more pictures:
Click HERE to return to my HOME page.
---
Any item or film that is in RED TEXT means that it is on hold, but I haven't yet received the order. This means when I receive the order I will remove the item, or if I do not get the order I will leave it listed and change the red text to black.
Go to ORDERING INFORMATION if you are ready to place an order or want to call me or send an Email.
This Site Is Designed And Copyright 1999 - 2022 By Phil Johnson
Do not use images or contents on any other web site or in print.