Phil's Vintage 8mm, Super-8 and 16mm Films and Projectors
---
8mm - super-8 - 16mm film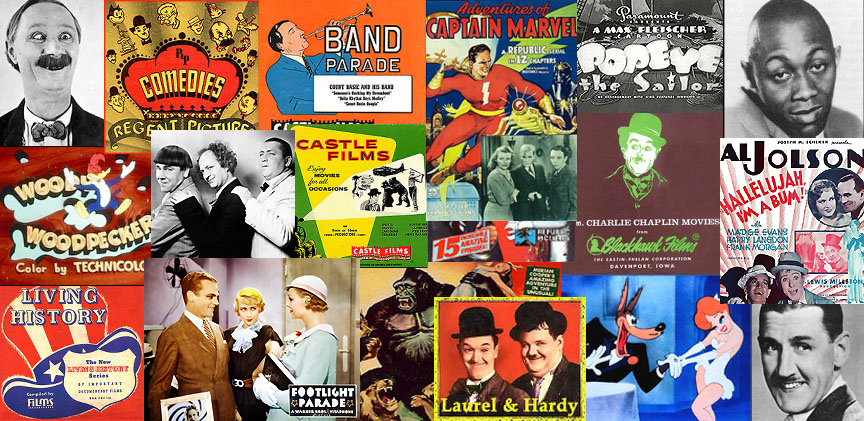 VINTAGE CLASSIC
8MM - SUPER-8 - 16MM MOVIE FILMS
Updated December 23, 2022

The following pages offer links to listings of a large selection of classic vintage movies in
8mm - Super-8 - 16mm
film formats; sound and silent features, cartoons and short subjects. You will find classic full length features and theatrical short subjects, as well as commercial package films sold to the home market such as the popular Castle Films and Blackhawk Films. Any films being in the original packaging or boxes will be indicated with (OB) and in some cases illustrations will be shown. I plan to update these pages regularly, including changing the images, so check back often. Click the links at the bottom of the page or above for films in the formats you want.
I do not sell any tapes or DVD, just films.
** Note that older movies on television and almost all DVD's are now sped up by a degree of 5 to 10%. This makes movement of the image in most cases unnatural, and (to me anyway) unwatchable. It is especially bad when it is a movie or TV show you have seen many times before in the correct speed. Soon the only way to see an older movie that is not corrupted is to watch Film or get the VHS or Betamax tapes.**
All films are for private home viewing only. There are no public performance rights given.
I do not have any unexposed film to use in movie cameras.
* Please note that I cannot accept films returned because they can't run or are damaged because of your projector. All films are inspected, cleaned and are in excellent running condition when they are shipped to you. Please make sure you have a properly running projector and know how to use it. Thanks very much! *
Check out this great page by Paul Ivester:
Guide to Identifying Color Movie Film Stocks
Many of the films offered on the pages linked below are Like New or in Near Mint condition. As such, especially with black and white film, they can be very dry. If they are not lubricated, depending on your projector, they can not slip properly when going through the gate and may clatter or the image may even jitter. All films, especially new condition or green prints, need to be lubricated for optimum performance. On my LINKS page you can go to URBANSKI FILM & VIDEO to buy Filmrenew or FILM-TECH to buy FilmGuard to clean and protect your prints. Dirt can build up on the guide rails that can also cause this problem. You must always keep the film gate and pressure pad of your projector clean and polished. I clean my film gates after every few reel runs. I saturate a Q-tip with FilmGuard to scrub off any hard dirt and then polish it off with a soft cotton cloth.
All films I sell are usually already cleaned and lubricated.
---
Difference in 8mm and Super-8/Single-8 Film:
(NOTE: Single-8 Film is simply the name Fuji gave to their polyester based super-8 film that was in a different style camera cartridge. Otherwise Single-8 film is the same as Super-8 and can be run on any super-8 projector.)
Super 8mm film was introduced in 1965 as an improvement over regular 8mm, although 8mm film continued to be used even up to today. Super-8 film features smaller sprocket holes and a smaller space in between the frames. The result is a 50 percent larger frame area. The charts below show you the difference between 8mm and super-8 film.

Click the links below to see the film listings.
Pick the film format you want below for links to other pages with lists of films exclusively in that format:
8MM FILMS - SUPER-8 FILMS - 16MM FILMS
Click HERE to return to my HOME page.
---
Any item or film that is in RED TEXT means that it is on hold, but I haven't yet received the order. This means when I receive the order I will remove the item, or if I do not get the order I will leave it listed and change the red text to black.
Go to ORDERING INFORMATION if you are ready to place an order or want to call me or send an Email.
This Site Is Designed And Copyright 1999 - 2022 By Phil Johnson
Do not use images or contents on any other web site or in print.