Phil's Vintage 8mm, Super-8 and 16mm Films and Projectors
---
super-8 projector
SUPER 8MM SILENT & MAGNETIC SOUND MOVIE PROJECTORS
************************

All top-of-the-line Super-8 Projector models for running all silent and sound Super and Single-8 films as noted.
(Not standard 8mm unless noted as being dual-8mm)

For Standard 8mm Only Projectors CLICK HERE

Updated January 8, 2022

Scroll down the page to see the projectors available, but
PLEASE READ FIRST !

All super 8mm projectors on this page are among the best and most reliable projectors made, totally restored to New running condition. They are for running Super-8 film or Fuji's Single-8 film only. Super-8 and Fuji's Single-8 film are the same film format, so both will run on any Super-8 projector.
You cannot run 8mm film on a projector designed just for Super-8/Single-8 film.
If you need a projector to run older standard 8mm film, click HERE for Standard 8mm Silent and Sound Projectors.
Here is the difference between 8mm and Super-8 (also called Single-8) film :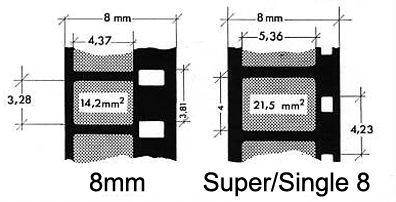 Projectors sold are immediately removed from the lists, so it is always up-to-date. More are added all the time. The listings on these pages are always current.
All projectors are single track mono sound unless noted as being 2-track or stereo sound models.
Most dual 8mm projectors, that can run both 8mm and super-8 (single-8) film, tend to sacrifice performance and film safety. For this reason I have never cared for most of them and will not have any, except for the early Eumig dual-8 sound (tube amplifier) and silent models. The Eumig models incorporate separate sprockets and film gates to be switched out for each film format and run the films excellent and safely. All Eumig projectors I will list are the older models and thus have to have extensive refurbishing done to make them perform and last like a new projector. Most will have totally refurbished drive discs and motor mounts, among other major parts replaced and re-adjusted.
All of the projectors on this page will run your film perfectly and safely. A number in brackets ( ) indicates if I have more than one of that model. No discount on these projectors.
Super 8 movie projectors by Elmo, Bell & Howell, Sankyo, Yashica, Eumig and other sound and silent models are avaliable off and on so keep checking back if you don't find what you want. All super-8 projectors have automatic threading. Most will be in Mint condition. All super 8mm projectors are cleaned, checked, lubricated, repaired and new parts installed as necessary to restore to perfect running condition. All come with the power cord, take-up reel, good bulb, instruction book and a magnetic sound film so you can test it as soon as it arrives. Other accessories are included as indicated.
All sound projectors will run silent as well as magnetic sound films. If indicated, some of the projectors here are excellent to use for transferring film to video, but none have the capability of transferring the image to video through a line output. You must use a video camera to take a picture of the projected image if you plan to use the projector for video transfer. Any line outputs mentioned in the descriptions are for audio only.
All are 115 to 120 volt unless noted as having multiple voltage settings. Most are capable of variable speed adjustment using two adjustable potentiometers on a circuit board inside the back covers using a special plastic adjuster you can get at Radio Shack for $1.29. However I will not accept a return on a projector for any damage caused by using improper tools or otherwise causing damage to the projector while adjusting the potentiometers; or from making any other adjustments or modifications to the projector.
I do not take in repair jobs. I just service the projectors I refurbish and sell myself.
IMPORTANT NOTE - RETURN POLICY:
All projectors are guaranteed to be as described and running perfectly for a full 60 days after delivery date, or I will repair it or replace it for another comparable model. If it cannot be repaired and I don't have a satisfactory replacement, I will give a refund. Please be sure about the type projector you need and what you order.
If, after you first receive the projector, you want to return it because you bought the wrong format, thought it did something I indicated in the description or on the page heading that it does not do, or you just decided you don't want it after all, I will issue a refund less the initial shipping, Paypal fees if that applies, plus a re-stocking fee of 25% of the selling price of the projector.
---

SUPER 8MM SILENT MOVIE PROJECTORS
SEARS (BELL & HOWELL) 9203
SUPER-8 SILENT PROJECTOR
Excellent For Video or DVD Transfer Work

Here is an exceptional silent projector for bright big screen projection, critical analysis of your film, or for video transfer. From 1965, the most full featured super-8 silent projector ever made by Bell & Howell for Sears. Features 400' reel capacity, variable speed control (approx. 15 to 24 fps) and flickerless slow motion of 3 to 6 fps with a special shutter that switches from 3 to 6 blades, single frame and reverse, automatic threading to take-up reel, retractable power cord, room light control and a very bright image for big screen projection using the low volt DLS, DEF, DKR or DHX 150 watt bulb. The picture shows a standard lens but this projector has a fast 1" f1.2 zoom lens. With original instruction book and film splicer, take-up reel and Disney film. Fully refurbisherd and Mint condition in the OB - $699 (No discount)

---
SUPER 8MM MAGNETIC SOUND MOVIE PROJECTORS
For showing Super-8 silent or sound films.
ELMO ST-800 SUPER-8
MAGNETIC SOUND PROJECTOR

A great performing Super 8mm magnetic sound projector with 800' reel capacity. Speeds of 18 or 24 frames per second with capability of variable speeds (two adjustable potentiometers on circuit boards inside the back cover) so you can adjust to 20 fps for video transfer of your home movies. Outstanding quality sound with a 6.5 watt amplifier with tone control. F1.3 zoom lens, 12 volt 100 watt EFP lamp, runs reverse as well as forward and has auto threading onto the take-up reel. Exceptional Elmo quality and very safe on your film. With settings from 110 to 240 volts and has multiple audio inputs and outputs. Comes with an 800' reel, instruction book, sample sound film and accessories. Like New - $799 (No discount)
---
ELMO ST-1200HD SUPER-8, 2-TRACK
MAGNETIC SOUND PROJECTOR

Stereo Playback Capable

A top of the line super-8 sound projector with large 1200' reel capacity (comes with an 800' auto- thread reel), magnetic sound recording and playback with both the main and balance tracks, F1.3 zoom lens, set 18 and 24 fps speed switch, film counter, two position lamp brightness switch, bright EFR 150 watt 15 volt lamp. Will go reverse and show single frames. Booming high quality sound output with tone control and multiple inputs and outputs for audio, including separate 1 & 2 track line outputs for playing back stereo films. A great projector for the collector wanting to show features with fewer interruptions. Has multiple voltage settings from 110 to 240 volts, 50 or 60 hz. Near Mint condition and runs like a dream. Comes with all accessories, carrying case (has minor wear), sample sound film and instruction book in the OB - $1,599 (No discount)
---
BELL & HOWELL DCM SUPER-8 SOUND PROJECTOR
WITH VARIABLE SPEED CONTROL

A cadillac of a machine made for Bell & Howell by Sankyo. Features 600' reel capacity, auto threading to take-up reel, reverse, tone control, speeds of 18 or 24 fps with an external variable speed adjustment. Super bright image with the fast f1.3 15 to 25mm zoom lens, 12 volt 100 watt EFP bulb, and Hi/Low lamp brightness switch. Can be set for 50 or 60 Hz, and several voltage settings from 110 to 240 volts and has multiple inputs and outputs. The variable speed control makes this perfect for transferring film to video or DVD. Comes with instruction book, microphone, grounded power cord, 600' reel and a sample sound film. In Near Mint condition - $1,199 (No discount)
---
For Listings Of Super-8 Cartoons, Shorts And Features To Run On These Projectors, Go To
SUPER 8MM FILMS
---
Any item or film that is in RED TEXT means that it is on hold, but I haven't yet received the order.
This means when I receive the order I will remove the item, or if I do not get the order I will leave it listed and change the red text to black.
Go to ORDERING INFORMATION if you are ready to place an order or want to call me or send an Email.
This Site Is Designed And Copyright 1999 - 2022 By Phil Johnson
Do not use images or contents on any other web site or in print.