Christmas Blackhawk Films

A SAVIOR IS BORN

- 1938, Foundation Films. The story of the birth of Jesus Christ. Mint on 2x200' reels in the OB - $39

NAZARETH, THE TOWN WHERE JESUS LIVED

- A tour of the Holy Land. Mint, 200' in the OB - $20
---
Castle Films were manufactured and sold to the home market from 1937 to the middle 1970's. Feature titles are 9 minute excerpts from the full feature. They set the standard for professional editing and high quality in home movies. The prints here are mostly from the 1940's to 1960's.

Films not in original boxes will be in cans or Miniature Movie Classics boxes. All are 200' films on a 5" reel. A number in brackets ( ) next to a title indicates that I have more than one print of that title.
Classic Ub Iewrks CineColor Cartoons - Classic fairy tale cartoons from 1934 to 1936. All in genuine no-fadeCineColor: LITTLE BLACK SAMBO, THE PINCUSHION MAN
All are Like New to Near Mint condition prints in fair to very good condition Fun Cartoons boxes - $39 each

**Read more about the CineColor cartoons sold by Castle in the 1940's. Click the button at the left to see the Fun Cartoons In Color page in the 1942 Castle catalog**
Click HERE for a brief history of Castle Films by Mark Clark.
THE RAILROAD STOWAWAYS

- Mack Sennett silent comedy starring Billy Bevan and Andy Clyde. Like New in the OB - $20

PERILS IN WILDEST AFRICA

- Excerpt from the feature "Perils Of Pauline" starring Pamela Austin. Mint in the OB - $18

ATTILA THE BARBARIAN

- From "Sign of the Pagan" with Jack Palance and Jeff Chandler. Like New in excellent OB - $20



S

IMPLE SIMON, BOY MEETS DOG, PUSS IN BOOTS

- All 3 classic Castle Films 1930's cartoons on a full 400' reel in a can. Vintage prints in Excellent condition - $59

Woody Woodpecker Cartoons

- Near Mint in the OB: CALLING ALL CUCKOOS, MISGUIDED MISSLE - $20 each

SOUTH POLE OR BUST

- 1934 Paul Terry-Toons cartoon. Excellent+ in the OB - $20
ADVENTURE & ANIMAL MOVIES

- Classic 1930's Universal short subjects in Excellent+ to New condition 1950's style OB's: FLAMING JUNGLE, WHO'S NEW AT THE ZOO, CHEYENNE COWBOY, SIMBA KILLER LION, TIGER HUNT, PEIRLS OF THE WILD (2, CROCODILE THRILLS (worn OB), CLYDE BEATTY'S ANIMAL THRILLS (worn OB) - $15 each

ZULU HULU

- 1930's. Life of the natives in darkest Africa. Adults only. Like New in the OB - $29
DESTRY

- Audie Murphy action western. Like New in OB - $20

GUNS OF THE WEST

- Action western with James Stewart. Excerpt from "Winchester 73" Like New in a worn OB - $24

THE LAWLESS BREED

- Western starring Rock Hudson. Mint print in a worn OB - $20

CANADIAN PACIFIC

- Randolph Scott western. Mint in the OB - $24

LADY GODIVA

- Startling story of the worlds most famous ride. Near Mint in the OB - $24
Action and Sports

- Excellent to Mint condition films in OB, can, or white box: TREETOP DAREDEVILS, WINDJAMMER THRILLS (2), SKI HI -SKI LOW (snow), FOOTBALL PARADE 1950, FOOTBALL PARADE OF 1955, RIDE 'EM COWBOY, FOOTBALL PARADE OF 1946 (in a can), FOOTBALL PARADE OF 1947, FIGHTING FISH - $12 each

Story Adventures

- All excellent condition in OB's: WILD HORSE AND THE LITTLE BRAVE, CINDERELLA AND THE SILVER SKATES - $15 each
WRONG WAY WILLIE

(4) - Classic old time silent comedy starring Lupino Lane. Mint condition in the OB - $15

LITTLE EGYPT

- Excerpt from Universal Rhonda Fleming feature. Mint in OB - $20

PERFECT CONTROL

- Excepert from an early short film starring baseball great Babe Ruth, the King of Swat. 50' Headline Edition, Mint in the OB - $25
BONGO PUNCH

(2) - Walter Lantz Fairy Fable cartoon - $15

CORONATION OF POPE JOHN XXIII

- Mint in good condition OB - $15

CANADA

- Very rare vintage Castle release from the 1937 and 1938 catalog. Mint prints in the OB - $39
Three Little Bruins Adventures

- These three baby bears get into all sorts of trouble in different situations. All Like New in OB: THREE LITTLE BRUINS ON A SPREE, BRUINS MAKE FRIENDS, BRUINS GREAT ADVENTURE, BRUINS MAKE MISCHIEF, BRUINS IN THE WOODS (2) - $12 each

Ub Iwerks Fairy Tale Cartoons

- Films are Near Mint: JACK AND THE BEANSTALK (white box) - $24 each
And in excellent+ condition: JACK AND THE BEANSTALK, SIMPLE SIMON - $20
ANDY PANDA Cartoons

- Like New in OB's: PAINTER AND THE POINTER, MOUSE TRAPPERS, THE PLAYFUL PELICAN (2) - $18 each

SMOKED HAMS

- Classic Woody Woodpecker cartoon. Excellent in a worn OB - $15

DOC'S LAST STAND

- Dynamo Doc cartoon by Walter Lantz. Mint in the OB - $20
LITTLE BLACK SAMBO

- 1935 Ub Iwerks cartoon. Mammy gives Little Black Sambo a quick scrub on the washboard, then pats him down with baby powder, black baby powder, before sending him off to play. She warns him about the tiger. Near Mint in OB - $29
See above for this title in

Cine

Color

.
NEWS PARADE OF THE YEAR

- All Near Mint prints with scripts in Like New OB: 1948, 1950, 1959, 1961 (2), 1966 - $20 each

NEWS OF WORLD WAR II

- Vintage Kodak or Dupont prints in Excellent to Mint condition, some tinted yellow or blue, most in OB:
YANKS SMASH TRUK, YANKS RECAPTURE GUAM, GRAF SPEE, FIGHT FOR EGYPT, MANILA BOMBED, YANKS INVADE MARSHALLS (2), ITALY SURRENDERS, BATTLE FOR FRANCE, INVASION OF FORTRESS EUROPE - $24 each
BRITISH COMMANDOS IN ACTION - $29
Old Time Movies

- Historic films from 1895 to the early 1900's. Vintage prints from the early 1940's, some in OB: THE GAY 90'S LIVE AGAIN (2), YESTERDAY LIVES AGAIN (2) - $15

MOVIES GREATEST HEADLINES

- This "Castle Quiz Game" covers the biggest news events from the early part of the century to the 1940's. Mint in the OB with script - $29

THE STAR SPANGLED BANNER

- Shows the words to our national anthem. 50' in the OB - $6
World Travel & Adventures In Travel

- The World Parade, Excellent to Like New prints in OB's or metal cans: JOURNEY THROUGH MEXICO, BANFF AND LAKE LOUISE, DENMARK, THE ROAD TO ROME, AFRICA UNTAMED, AFRICA'S VIVID VELDT, BERMUDA, CAMERA THRILLS IN WILDEST AFRICA (2, one in a can), MONTREAL - $15 each
THE FABULOUS HARLEM GLOBETROTTERS

- Ambassadors of basketball. Near Mint in the OB - $20

FAMOUS FIGHTS, GREAT LIGHTWEIGHT BOUTS

- Gavilan vs. Cartier, Pep vs. Perez, Demarco vs. Basilio, Robinson vs. Olson. Like New in the OB - $20

BATTLES FOR THE CROWN

- Willard vs.Moran, Carnera vs. Sharkey, Baer vs. Schmeling. Like New in the OB - $2
All Films On This Page Are Standard 8mm Silent 200' Complete Editions, 7 To 12 Minutes In Length (unless noted).
---
KODACHROME HOME MOVIES COLLECTION

- Like New condition beautiful Kodachrome Color home movies. Includes 5 full 200' reels from 1950 and 51 of a family with children during different holidays and events. Includes Christmas, Halloween, kids on amusement rides, etc; and 9 full 400' reels in cans taken from 1959 to 1970 of different events and trips to Washington, California, New England, Yellowstone and much more; and comes in a beautiful carrying case - $129

CYPRESS GARDENS IN FLORIDA

- Souvenir film sold at Cypress gardens around 1950. Beautiful

Kodachrome

Color

scenes of the park, the girls and the flowers. Includes a script with historical information about the gardens, including Hollywood movies filmed at the park. About 3 minutes, Mint on a 50' reel - $29
---
All films below are the longer 200' (5" reel) versions as originally released on the home movie market (unless noted). OB indicates the film is in the original box.
Cubby Bear Cartoons

- RKO, Van Beuren Cartoons.

Classic animation from the early 1930's. All are complete on 200' reels in the OB.

Vintage Mint 1955 Kodak prints: CUBBY'S WORLD FLIGHT, FIDDLIN' FUN, BUBBLES AND TROUBLES, THE LAST MAIL - $29 each

A LITTLE BIRD TOLD ME

- 1934 Van Beuren cartoon. A live-action little boy is caught in the horrible crime of stealing jam! When he asks his big sister how she knew he had done it, she answers "A little bird told me." This launches an animated segment about a newspaper run by birds and how they got the scoop on the little boy's crime. Mint condition Official Films print, full 200', in a worn OB - $39
ROADRUNNER BATTLES RATTLESNAKE

- A roadrunner saves a little boy as he is about to be attacked by a rattlesnake - $20

LOS ANGELES LIVE STEAMERS - Beautiful Kodachrome Color home movies. 125' on a 200' reel in Interurban Films box - $29

BOSKO'S PHOTO FINISH - Another Hugh Harmon Bosko cartoon but in a generic Hollywood Films 3"x3" OB. 50' - $12
Official Films Travel & Sportbeams

- 1930's Sports and Travel adventures. Mint in OB: WINTER SPORTS, BOWS AND ARROWS, ON THE TRAIL, THE GOLDEN WEST - $12 each

Pictoreels, Sterling Films Sports & Travel Series

- Mint print in excellent OB: THE STOWAWAYS - $10

MAN OF STONE

- Sterling Films. Story of a tyrannical king from 500 years ago. Near Mint in OB - $15

FRONTIER OUTLAWS

- Pictoreels print. western with Buster Crabbe and Al St. John. Mint in the OB - $15

ENEMY OF THE LAW and BRAND OF THE DEVIL

- Tex Ritter and Dave O'Brien Westerns. Two Official Films condensed 200' films on one 400' reel in a white box. Near Mint - $39

DODGE CITY TERROR with Tex Ritter & INDIAN ATTACK with Buck Jones

- 2x200' western feature excerpts on a 400' reel in a white box. Mint - $39

NYOKA IN THE CAVES OF DEATH

- Republic. From the 1942 serial "Perils Of Nyoka". Dangerous search for a missing explorer in Arabia. Mint, 400' in the OB - $29
Encyclopedia Britannica Films

- Mint print in OB: TASCO THE NAVAJO - $15

MISTAKEN IDENTITY

- Hollywood Films extract from the Laurel & Hardy comedy "Our Relations". Like New print in a worn OB, image is dark - $12

AFRICAN SAFARI

- 1950's. World in Color Productions. Beautiful

Koda

chrome

Color

. Excellent condition, 50' in the OB - $15

CALLING ALL TARS

- 1935 Bob Hope comedy from Warner Brothers. Like New in the OB - $29

GENGHIS KAHN

- Columbis Pictures feature souvenir. 200', Mint in shrinkwrap - $20

Warner Brothers Classics

- UA8 (AAP) home movies excerpts in the OB's: DESTINATION TOKYO with Cary Grant, GUNGA DIN - $15 each

KEYSTONE HOTEL

- 1937 comedy brings back Ben Turpin and other Sennett favorites. In a.a.p. worn box or UA mint OB - $15
ROY ROGERS TV SHOW HIGHLIGHTS

- Highlights from the 1950's "Roy Rogers Show". 4 - Hollywood Films 100' extracts on one 400' reel; "The Long Chance", "Silver Fox Hunt", The Knockout" and "Ride In The Death Wagon" All on one 400' reel in a white box in Excellent+ condition - $39

THE KNOCKOUT

- Taken from the 1950's Roy Rogers television series with Dale Evans and Pat Brady. Distributed by Hollywood Films, Like New in OB (Generic Hollywood Films box) - $29
Andy Clyde Comedies

- Classic Columbia comedies. Good used print in OB: STUCK IN THE STICKS, CAUGHT IN THE ACT - $15

HOTSY FOOTSY

- Columbia Mr. Magoo cartoon. Like New in the OB - $20

HOLLYWOOD AND THE STARS

- Television series from 1960. In United Artists OB: THE UNSINKABLE BETTE DAVIS - $18

RAMBLING IN VIENNA

- Fireside Films release, 1940's. Travel scenes in Austria. Near Mint is a white box - $24
Terry Toon Cartoons

- Excellent in OB: FOOLISH DUCKLING with Dinky Duck (2), THE HAUNTED CAT with Little Roquefort - $15 each

TOYLAND ADVENTURE

- 1930 Van Beuren Jungle Jonks cartoon. Excellent+ to Like New - $15

ALIAS ST. NICK

- 1935

Harman-Ising MGM Christmas cartoon. Mother mouse reads "A Visit from St. Nicholas" to a bunch of little mice kids. Among them is Little Cheeser, but he is cynical and doesn't believe in Santa. Pictoreels home movie print in a Star Photo OB - $15
---
CAPTAIL CELLULOID VS. THE FILM PIRATES

A silent four chapter serial made in 1969 in the flavor of the classic Republic serials of the 1940's. The complete uncut negative of Eric von Stroheim's "Greed" is discovered. The Master Duper, the supreme film pirate, is out to swipe it and sell copies to film collectors. Captain Celluloid, guardian of rare movie treasures, is committed to thwarting this crime.
This is a wonderful homage to those classic cliff-hangers and is actually better than the latter day Republic offerings. Produced by cinematographer Lou MacMahon. Stars Robert Clayton and film historians William K. Everson and Alan G. Barbour. I have extra prints of chapters 1 and 4, so those are avaliable individually. Chapter 3 is available in the complete set of 4 chapters in sound only, however sound prints are the same as the silent prints and can be run on silent projectors.
The magnetic sound version has effects and an action music track that will be recognizable to many serial fans. I have no silent Chapter 3's left.
Chapter 1 only

on a 400' reel in a plain box (8) - $29

Chapter 2 only

on a 400' reel in the OB (1) - $39

Chapter 4 only

on a 200' reel in the OB (3) - $20

Chapters 1,2,3 & 4 in Magnetic Sound

(2) - Excellent+ to Like New condition with a music track on 3x400' reels - $119
---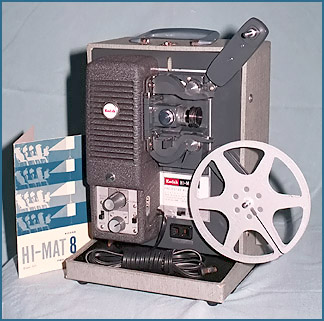 CLICK THE IMAGE ABOVE IF YOU NEED AN 8MM PROJECTOR TO SHOW THESE FILMS