Phil's Vintage 8mm, Super-8 and 16mm Films and Projectors
---
8MM SILENT FILM SHORT SUBJECTS

Updated September 14, 2019

All films on this page are for standard / regular 8mm, or dual-8 movie projectors only.
All films are black & white, Excellent to Mint condition and Complete Editions, 200' in length, unless otherwise noted. The original boxes for these films have become very much in demand and represent some excellent artwork. OB indicates the film comes in the original box, otherwise they will be in a white box or a can. The boxes will generally be in excellent to like new condition unless noted otherwise. If I have more than one of any title, the quantity will be noted in brackets ( ) next to that title.
---
VINTAGE CLASSICS FROM THE SILENT ERA
THE FRAIDY CAT

- 1924 Hal Roach Pathe comedy stars Charley Chase. Jimmy Jump is a coward. Everyone and everything makes him afraid. He cowers from the neighborhood children, even though he's old enough to be their father. He is terrified of Lem Tucker, who is his rival for the heart of Dorothy. Only when he mistakenly believes he is about to die does Jimmy find courage. But will it last?

Rare Mint Regent Films print, 200' in the good condition OB - $29

HOT SPARKS

- 1928 Paramount Christie comedy with Bobby Vernon. Near Mint 1945 Kodak print in a can, 200' - $39

FOR SADIE'S SAKE

- 1926 Jimmie Adams Christie comedy. 1945 Kodak print by Hollywood Films in the OB. Excellent condition print but picture is very light. Full 200' - $12

MEMORY LINGERS ON #1

- Fireside Films compilation of historical newsreel and Hollywood footage 1920 and earlier. Excellent+ vintage Kodak print, 400' in a can - $29

MOVIES MARCH ALONG

- Documents the development in movie making between 1896 and 1928. Like New 1949 Kodak print, 200' in a plastic case - $29
LAUGHING GAS

- 1914 Charlie Chaplin comedy. Charlie pretends to be a dentist though he is only his assistant. When a patient can't stop laughing from the anesthesia Charlie knocks him out with a club. Near Mint in the Regent Films OB - $39

CAUGHT IN A CABARET

- 1914 Charlie Chaplin comedy with Marie Dressler. Charlie is a clumsy waiter in a cheap cabaret, suffering the strict orders from his boss. He'll meet a pretty girl in the park, pretending to be a fancy ambassador, despite the jealousy of her fiancee. Excellent+ vintage Hollywood Films print. 200' in the OB - $39

THE DARE-DEVIL

- 1923 Ben Turpin comedy.

The movie makers are filming the next installment of the western serial, "Get Your Man". The movie's leading man wants his stunt double to do the next dangerous stunt. Purely by accident, a hapless, cross-eyed aspiring actor named Joe Magee ends up doing the stunt perfectly.

Like New British home movie release. Excerpt version on a 200' reel - $20



WHISPERING WISKERS

-

1926 Billy Bevan and Andy Clyde comedy. Billy and Andy go after a stolen ruby of the Rajah Koola Kasha. They have no luck, but there is lots of Mack Sennett action that builds to a speeding climax on a railroad train. Mint Regent Films print, 400' in a can - $59

MOTORBOAT MAMAS

- 1928 Mack Sennett comedy

stars Billy Bevan, Alma Bennett and Vernon Dent. Mint Entertainment Films print, 400' in a can - $49

PARDON ME

- 1922 Eddie Lyons comedy.

In the 1910s and 20s, Hollywood made a bazillion comedy shorts where the humor tended to be extremely broad--with folks getting shot in the butt, kicked and with lots of pratfalls. Fortunately, "Pardon Me" is a more sophisticated film and emphasizes plot more than cheap laughs. Mint Thunderbird Films print, 400' in a can - $39
DOLLARS AND SENSE

- 1916 Keystone comedy with the Keystone Kops. A country girl and a foppish Englishman inherit an estate, and the terms say that it can't be divided. The terms also state that the two must get married, and if one refuses, then the other gets the entire estate. The girl schemes with her twin brother to trick the Englishman out of his part of the inheritance. Mint Niles Films print, 400' - $49

ORANGES AND LEMONS

-

1925 Hal Roach Pathe comedy stars Stan Laurel. After getting into a scuffle with his boss and some co-workers, an orange packer tries to help another co-worker, only to wind up in a conflict with him as well. Trying to elude his boss, he heads inside the packing house, and visits with the women who are packing fruit into cases. Then he heads to a storage area, and tries to use the machinery to escape his pursuers. Rare Mint Regent Films print, 200' - $29
TAXI SPOOKS

- 1929 Mack Sennett comedy

w

ith Jack Cooper, Thelma Hill and Andy Clyde. Annie (Thelma Hill), her mother, and a taxi driver set out to find Grandpa's fortune but some shady men might get to it first.

Mint Regent Films print, 400' in a can - $49

FAST AND FURIOUS

- 1924 Educational Pictures comedy

stars Linge Conley. Wild, fast moving comedy. Great quality from scratched 35mm original pre-print in second reel. Like New Regent Films print on 2x200' reels in the OB - $39

COPS

- 1922 Buster Keaton classic comedy.

Through a series of mistaken identities Buster winds up with a load of furniture in the middle of parade of policemen. An anarchist's bomb lands in his carriage. After lighting his cigarette with it, he tosses it into the ranks of police. When it explodes the police chase him all over town.

Excellent+ 1960's Gevaert print in a can - $39
A $5000 Elopement

- Selig Polyscope 1916 western starring Tom Mix. Near Mint print in a white box - $20

TWO GUN OF THE TUMBLEWEED

- 1927 Leo Maloney western. Mint, 200' in a box - $20

THE INDIANS ARE COMING

- 1930, Tim McCoy western serial, last chapter on a 300' reel in a can. Like New Entertainmant print - $25

THE POLKA DOT BANDIT

- Bob Custer western. On 100' cardboard reel. Early 1940's Agfa Safety print in excellent condition - $15

Many more classic silent era films listed on the Blackhawk Films page.
---
KEN - KEYSTONE - OFFICIAL - PICTOREEL - HOLLYWOOD - ATLAS & CARNIVAL - ENTERTAINMENT - A.A.P. & COLUMBIA FILMS
All films below are the longer 200' (5" reel) versions as originally released on the home movie market (unless noted). OB indicates the film is in the original box.
CAPTAIN MARVEL - CURSE OF THE SCORPION

- From the 1941 Republic Pictures serial "Adventures of Captain Marvel" starring Tom Tyler. During an archaeological expedition to Siam's volcanic Valley of the Tombs to find the lost secret of the Scorpion Kingdom, a device of great power, the Golden Scorpion, is discovered hidden inside a sealed crypt. Like New 200' in the OB - $29

THE GOLD RAIDERS

- 1951 comedy western starring George O.Brien and the Three Stooges. As peddlers, the Three Stooges help insurance agent George O'Brien outwit a gang of desperados who are after a valuable gold-mine shipment. A Like New a.a.p. print in the OB - $29

MISTAKEN IDENTITY

- Hollywood Films extract from the Laurel & Hardy comedy "Our Relations". Like New print in a worn OB, image is dark - $15

Official Films Travel & Sportbeams

- 1930's Sports and Travel adventures. Mint in OB: WINTER SPORTS, BOWS AND ARROWS, ON THE TRAIL, THE GOLDEN WEST - $12 each
ADVENTURES OF BATMAN

- Condensed version in 6 chapters on 200' reels for 8mm release. From the 1943 Columbia Pictures serial "The Batman" starring Lewis Wilson and J. Carrol Naish. The storyline involves the Batman, a secret U. S. government agent, attempting to defeat the sabotage schemes of Japanese agent Dr. Daka operating in Gotham City at the height of World War II. This is the complete set of 6 chapters in Like New condition, each in it's individual OB - $119
NEW YORK WORLD'S FAIR 1939

- Official Films release of a tour of the 1939 "World of Tomorrow". Near Mint, 200' in a white box - $39

LOS ANGELES LIVE STEAMERS

- Beautiful

Koda

chrome

Color

home movies. 125' on a 200' reel in Interurban Films box - $29

BOSKO'S PHOTO FINISH

- Another Hugh Harmon Bosko cartoon but in a generic Hollywood Films 3"x3" OB. 50' - $18

Encyclopedia Britannica Films

- Mint prints in OB: TASCO THE NAVAJO, ELEPHANT TRICKS, COWBOYS AND BRONC BUSTERS - $15 each

AFRICAN SAFARI

- 1950's. World in Color Productions. Beautiful

Koda

chrome

Color

. Excellent condition, 50' in the OB - $15

ROADRUNNER BATTLES RATTLESNAKE

- A roadrunner saves a little boy as he is about to be attacked by a rattlesnake - $20
Cubby Bear Cartoons

- RKO, Van Beuren Cartoons.

Classic animation from the early 1930's. All are complete on 200' reels in the OB.

Vintage Mint 1955 Kodak prints: CUBBY'S WORLD FLIGHT, FIDDLIN' FUN, BUBBLES AND TROUBLES, THE LAST MAIL - $29 each

A LITTLE BIRD TOLD ME

- 1934 Van Beuren cartoon. A live-action little boy is caught in the horrible crime of stealing jam! When he asks his big sister how she knew he had done it, she answers "A little bird told me." This launches an animated segment about a newspaper run by birds and how they got the scoop on the little boy's crime. Mint condition Official Films print, full 200', in a worn OB - $29
CAVALCADE OF AMERICAN PRESIDENTS

- This Official Films documentary covers the process of electing a U.S. president and a history of the predidents up to FDR. A vintage Like New Kodak 1945 print in a slightly worn OB - $39

OFFICIAL FILMS NEWS THRILLS OF 1942

- British Commandos in action in Battle of Midway, Allied Convoy Fails Axis Attack, Flying Tigers in the Far East, RAF Bombs Paris, MacArthur in Australia and Philippines, Stilwell and Chiang in Burma. Near Mint is a white box - $29

OFFICIAL FILMS NEWS THRILLS OF 1944 - INVASION

- Dramatic record of the D-Day invasion of France. Near Mint is a white box - $29

OFFICIAL FILMS NEWS THRILLS OF 1947

- Hemisphere Defense Pact, Battle for Georgia Governorship, Flight Around World, American Legion Parade, Texas City Disaster, Collyer Mystery and Tropical Hurricane. Near Mint is the worn OB - $29
MAN OF STONE

- Sterling Films. Story of a tyrannical king from 500 years ago. Near Mint in OB - $15

FRONTIER OUTLAWS

- Pictoreels print. western with Buster Crabbe and Al St. John. Mint in the OB - $15

ENEMY OF THE LAW and BRAND OF THE DEVIL

- Tex Ritter and Dave O'Brien Westerns. Two Official Films condensed 200' films on one 400' reel in a white box. Near Mint - $39

DODGE CITY TERROR with Tex Ritter & INDIAN ATTACK with Buck Jones

- 2x200' western feature excerpts on a 400' reel in a white box. Mint - $39

NYOKA IN THE CAVES OF DEATH

- Republic. From the 1942 serial "Perils Of Nyoka". Dangerous search for a missing explorer in Arabia. Mint, 400' in the OB - $29

SANDS OF IWO JIMA

- Republic Pictures digest version of this John Wayne WWII classic. Mint print, 400' in a good condition OB - $29

JFK, THE EARLY YEARS

- Made by Movie Newsreels in 1964. Covers the early history of President John Fitzgerald Kennedy. Like New, a full 200' in the OB - $29

Pictoreels, Sterling Films Sports & Travel Series

- Mint print in excellent OB: THE STOWAWAYS - $10
GEMINI 6-7 RENDEZVOUS IN SPACE

- The story of this historic mission. See the Gemini 7 spacecraft as it was observed on December 15, 1965, from the hatch window of the Gemini 6 spacecraft during rendezvous manuevers and station keeping at a distance of approximately 9 feet apart. Columbia Pictures release, Mint in the OB - $24

CALLING ALL TARS

- 1935 Bob Hope comedy from Warner Brothers. Like New in the OB - $29

GENGHIS KAHN

- Columbia Pictures feature souvenir. 200', Mint in shrinkwrap - $20

Warner Brothers Classics

- UA8 (AAP) home movies excerpts in the OB's: DESTINATION TOKYO with Cary Grant, GUNGA DIN - $15 each

KEYSTONE HOTEL

- 1937 comedy brings back Ben Turpin and other Sennett favorites. In a.a.p. worn box or UA mint OB - $15

LAUREL & HARDY MURDER CASE

- 1930 Hal Roach classic comedy. An excellent condition British Goldenreel Classic home movie release. 1955 Kodak print in the OB - $20
ROY ROGERS TV SHOW HIGHLIGHTS

- Highlights from the 1950's "Roy Rogers Show". 4 - Hollywood Films 100' extracts on one 400' reel; "The Long Chance", "Silver Fox Hunt", The Knockout" and "Ride In The Death Wagon" All on one 400' reel in a white box in Excellent+ condition - $39

THE KNOCKOUT

- Taken from the 1950's Roy Rogers television series with Dale Evans and Pat Brady. Distributed by Hollywood Films, Like New in OB (Generic Hollywood Films box) - $29

Andy Clyde Comedies

- Classic Columbia comedies. Good used prints in OB: STUCK IN THE STICKS, CAUGHT IN THE ACT - $15 each

Buster Keaton Comedies

-

Classic Columbia comedies. Near Mint print in OB: PARDON MY BERTH MARKS - $20
THE VAMPIRE BAT

- Excellent horror film extract starring Lionel Atwill, Dwight Frye, Melvyn Douglas and Fay Wray. When the villagers of Klineschloss start dying of blood loss, the town fathers suspect a resurgence of vampirism. Entertainment Films print, 200' in the OB - $29

HOTSY FOOTSY

- Columbia Mr. Magoo cartoon. Like New in the OB - $20

HOLLYWOOD AND THE STARS

- Television series from 1960. In United Artists OB: THE UNSINKABLE BETTE DAVIS - $18

RAMBLING IN VIENNA

- Fireside Films release, 1940's. Travel scenes in Austria. Near Mint is a white box - $24

PATHE NEWS 1917

- Great footage of major events from 1917. Mint in the Thunderbird Films worn OB - $29
Terry Toon Cartoons

- Excellent in OB: FOOLISH DUCKLING with Dinky Duck (2), THE HAUNTED CAT with Little Roquefort - $15 each

FRANKENSTEIN'S CAT

- 1942 Mighty Mouise cartoon.

"Frankenstein's Cat" saw Super Mouse's second appearance. He was later re-named Mighty Mouse after seven cartoons and went on to become Terrytoons' most prolific lead character.

Like New in the OB - $29

TOYLAND ADVENTURE

- 1930 Van Beuren Jungle Jonks cartoon. Excellent+ to Like New - $15

ALIAS ST. NICK

- 1935

Harman-Ising MGM Christmas cartoon. Mother mouse reads "A Visit from St. Nicholas" to a bunch of little mice kids. Among them is Little Cheeser, but he is cynical and doesn't believe in Santa. Pictoreels home movie print in a Star Photo OB - $15
---
KODACHROME HOME MOVIES COLLECTION

- Like New condition beautiful Kodachrome Color home movies. Includes 5 full 200' reels from 1950 and 51 of a family with children during different holidays and events. Includes Christmas, Halloween, kids on amusement rides, etc; and 9 full 400' reels in cans taken from 1959 to 1970 of different events and trips to Washington, California, New England, Yellowstone and much more; and comes in a beautiful carrying case - $129

CYPRESS GARDENS IN FLORIDA

- Souvenir film sold at Cypress gardens around 1950. Beautiful

Kodachrome

Color

scenes of the park, the girls and the flowers. Includes a script with historical information about the gardens, including Hollywood movies filmed at the park. About 3 minutes, Mint on a 50' reel - $29
---
CAPTAIL CELLULOID VS. THE FILM PIRATES

A silent four chapter serial made in 1969 in the flavor of the classic Republic serials of the 1940's. The complete uncut negative of Eric von Stroheim's "Greed" is discovered. The Master Duper, the supreme film pirate, is out to swipe it and sell copies to film collectors. Captain Celluloid, guardian of rare movie treasures, is committed to thwarting this crime.
This is a wonderful homage to those classic cliff-hangers and is actually better than the latter day Republic offerings. Produced by cinematographer Lou MacMahon. Stars Robert Clayton and film historians William K. Everson and Alan G. Barbour. I have extra prints of chapters 1 and 4, so those are avaliable individually. Chapter 3 is available in the complete set of 4 chapters in sound only, however sound prints are the same as the silent prints and can be run on silent projectors.
The magnetic sound version has effects and an action music track that will be recognizable to many serial fans. I have no silent Chapter 3's left.
Chapter 1 only

on a 400' reel in a plain box (8) - $25

Chapter 2 only

on a 400' reel in the OB (1) - $35

Chapter 4 only

on a 200' reel in the OB (3) - $20

Chapters 1,2,3 & 4 in Magnetic Sound

- Excellent+ to Like New condition with a music track on 3x400' reels - $99
---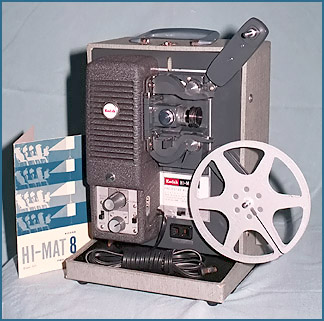 CLICK THE IMAGE ABOVE IF YOU NEED AN 8MM PROJECTOR TO SHOW THESE FILMS
Back To VINTAGE 8MM FILMS
Click HERE to return to my HOME page.
---
Any item or film that is in RED TEXT means that it is on hold, but I haven't yet received the order. This means when I receive the order I will remove the item, or if I do not get the order I will leave it listed and change the red text to black.
Go to ORDERING INFORMATION if you are ready to place an order or want to call me or send an Email.
This Site Is Designed And Copyright 1999 - 2019 By Phil Johnson
Do not use images or contents on any other web site or in print.